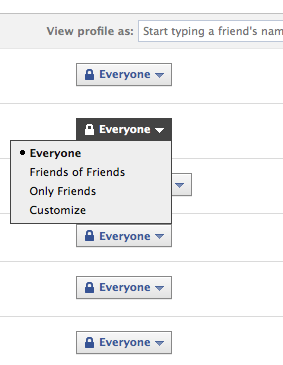 pri·vate [prahy-vit] – adjective – confined to or intended only for the persons immediately concerned; confidential. personal and not publicly expressed.
That word is the hottest topic of debate in the realm of social media yet it's something most don't fully grasp. Privacy, schmivacy. Where do folks get off huffing about privacy in an open network? Seriously guys, this has to stop right now. You have no idea how silly you look. It has gotten so out of hand that the New York Times of all places even breaks it down with a chart that sizes up legalities against the US Constitution. Really? Has society fallen that deep into a pit of paranoia?
In defense of the legal discourse that comes from social networking sites : they must have it – basically because opportunistic folks are capable of bringing down a company with lawsuits. Consider the discourse one big insurance policy. And unless you haven't noticed, anytime a change is made to said policy, they post a prominent note about it – a note I am guessing most folks ignore. Enter the neurotics – they dissect the note and – OH MY GOD, facebook will make public my photo I posted of me jet-skiing in Aruba to travel companies! The outrage! Puh-lease.
Look folks – YOU control your online lives from the onset. YOU choose what to broadcast and what not to. I'd like to emphasize the word broadcast. What you are neglecting is that no matter how private your settings become, the ONLINE world will always be public. There aren't any do-overs and take-backs here. The sooner you realize this, the better your lives will be. If you slap your aunt in the face, you can never take that slap back. The same thing applies to publishing things to the internet. It's in the rulebook from day one. A rulebook you did not read or understand. The delete button is the biggest illusion on the world wide web.
So I beg you. Please stop the whining. Facebook and other social networks will not re-architect themselves for you. And unless you are a spy, a terrorist, a criminal or a cheat – chances are there is little you should be worried about. Moreover, there is little you can do to change things. In short, get over yourselves. The social networks give you adequate privacy controls for displaying your data. If something is private or personal, it does not belong on a social network, period. If something shouldn't be in the public domain – don't post it. End of story.
Tags: constitution, facebook, myspace, new york times, privacy, social media, social networking, twitter