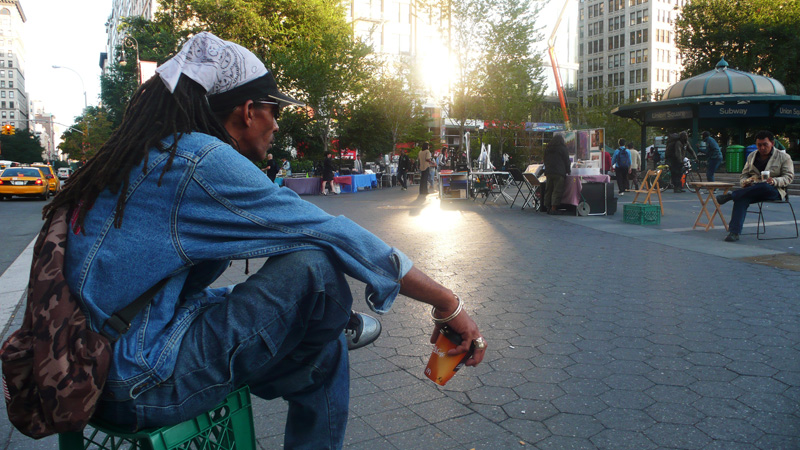 Open Letter to Adrian Benepe, NYC Parks Commissioner;
So, let me get this straight — you want to boot me out of the park and replace me with Wendy's? Look man, I dig the spicy chicken sandwiches too, but this is all processed nonsense, biggie-sized. Stepping on rights and people's faces will not win you any brownie points. Not cool. While I can't speak for other venues, I feel deeply invested in what goes on specifically at Union Square Park. My wife and I have both displayed and sold work there and we've met, collaborated and befriended a diverse community of artists in the area with similar interests and motives. We have worked with honorable practices and adhered to all laws and guidelines while doing so. Recently, thanks to Robert Lederman and a bunch of concerned artists, I got wind of the changes proposed by a team led by Alessandro G. Olivieri and yourself (with the unmistakable backing of Mayor Bloomberg). A proposal that is squared up for review in close to two weeks.
Let me recap the stark particulars proposed: the new bill limits 12-18 vendors for Union Square – total (which is about 15% of us). These regulations are to create a less dense pocket of people in city parks. The argument is that vendors take up too much space and cause congestion and disruption.
In rebuttal, let us examine some of the points you guys are grossly overlooking. Besides violating the integrity of the First Amendment of the U.S. Constitution, the proposal:
murders the cultural relevancy of Union Square.
For as long as I can remember, Union Square Park has been a cultural hub for art and activism. It is one of the last remaining spots in the the city where folks can congregate and experience the nerve center of creativity and voice. Around it, Manhattan is quickly transforming into an urban corporate wasteland and the more restrictions you toss at this very tiny community of artists, the more unappealing the borough becomes. Culture is shot as we know it, and the evidence is all around us. It started over a decade ago when the mass exodus of art went over the bridge to Brooklyn. Folks like you who masquerade as art patrons are the root cause of this defection.
confuses tourists.
New York City is undoubtedly the tourist capital of the world. That being said, there are countless volumes of guides in print from very prominent publishers that point folks over to Union Square for things other than the Greenmarket. Transforming Union Square into the megalith formerly known as Times Square will not only wreck culture, but will also hurt the integrity of these publications and force them into re-writes. In case you were wondering, yes – I will cc: said publications. I've had many conversations with travelers from abroad who specifically sought out Union Square as one of their must-see's. And not because of sponsored pillow fights (um, feel free to check the link for the photos of the congestion that debacle caused.)
creates more congestion, not less.
Let's simplify and expose what is neatly and methodically tucked in your legal inaccessible discourse. The proposal insists that one of the goals is to alleviate congestion in the park. At the same time, the city would be willing to "reserve" the space for organized corporate entities, fast food (?!?!?) and art installations (see: aforementioned pillow fight.) Last I checked we were all confined to 8′ restrictions each (with most folks not even coming close to max limits). Good luck selling 8′ to Disney only. And if you honestly think that McDonald's will take up less space than Kudu-Lah, you are living a far-fetched fantasy. Do you want absolute proof that artists don't cause congestion? Walk through the park on a Sunday (when the Greenmarket and most corporate sponsors are off) and it will be painfully obvious where the congestion is really coming from. When these monstrosities do indeed get erected, lets circle back to your points about congestion. Bottom line is that the primary motive of the proposal is to enhance the Park Department's concession revenue. In short, it's all about cash. Cash, in your pockets.
In all, this whole thing reeks of selfishness and greed. If this law does indeed pass, I will just fold my table and be on my way. See, I don't have the energy to fight greed with protests and legal proceedings. It's the nature of the artist to fight with art and word of mouth. And I promise that you guys will have a barrage of condemnation that will cloud your reputation for the rest of your professional lives. Need I remind you that we are collectively armed with the leverage and power of social media? Despite dollar menu coins expanding your pockets, the accumulation of your karmic debt will be profound and ultimately, sad.
That said, are you still prepared to square off?
Always,
Rich (in ways you will never be)
First Amendment Artist
cc: Mayor Michael Bloomberg
cc: Fodors
cc: Lonely Planet
cc: Frommers
Tags: adrian benepe, alessandro olivieri, art, artists market, brooklyn, congestion, corporate, culture, fast food, greed, greenmarket, karma, law, manhattan, mcdonalds, michael bloomberg, new york city, restrictions, robert lederman, social media, times square, tourism, union square, wendys