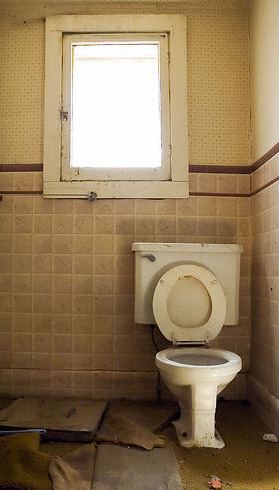 The speculative room was labled "Living Spaces of the Future" or something like it. It had floating appliances and lots of shiny gadgets and unrecognizable washrooms. I was about 8 years old and I was mesmerized by this display at Disney's Epcot Center. The Jetsons never really impressed me, but this coupled with an onslaught of Sci-Fi TV shows and feature length flicks had me completely sold. I saw the future. Well, at least someone else's vision of the future. Apparently, it was a vision shared by many. Behold, the twenty-first century and beyond will be filled with flying cars and floating gadgets!
Fast forward to today. We are several months already into the second decade of the millenium and I am thinking back to those very impressionable days. We have come a long way, in some cases. I remember my family purchasing a super-expensive set of encyclopedia books filling up an entire wall of our tiny apartment so my sister and I wouldn't have to run all the way to the library to finish our homework. Now kids are a keyword or two in a search bar away from the same information. That is progress. In a recent CNN article, Bob Green illustrates three innovations that have permanently changed this country over the past century. It got me thinking that with everything created that was handy and broke new ground there must also be inventions that have gone really nowhere. Because, lets face it – those visions everyone had for twenty-ten are somewhat a bit off. That said, I'd like to cover 3 innovations that pretty much went nowhere. We'll lovingly call these : the stalled innovations, or just simply "the stalls."
Stall # 1. The Umbrella.
Can I get a big "COME ON?" Really? Is this the best thing we, as a species, can come up up with to ward off rain? How many effin' umbrellas do I have to go through in my lifetime before I can officially deem the invention useless? Don't even get me started on rain coats. In a world where splitting atoms with lasers, cloning live animals and turning Michael Jackson from black to white is reality, you would think that we could come up with something better than a handle/stick with layered nylon triggered by a spring? Way to represent advancement in technology, guys.
Stall # 2. The Steering Wheel.
This is a less obvious invention because we've come a long way in automotive technology but we actually still have the trusty ol' steering wheel? This is something that was created in 1894, and other than look and some additional functionality, hasn't really advanced past the time when our great-grandparents were children. I understand a serious modification would come with a steep learning curve and judging by the way most folks drive, I figure nobody wants to hedge their bets. But people, this is not the future. Steering wheels in 2010? Yikes.
Stall # 3. Toilets.
Particularly public ones. Holy crap, folks. I've seldom walked into any public bathroom where I didn't feel like I was in a zoo. Way to be primitive, America. Plastic frames and spring hinges are commonplace in this country. We are the floating turd of the civilized world. Recently, I spent a month in Thailand (a country most dub 'third world'), and almost every modern public toilet facility there at the very least had a little spray attachment to assist in cleanliness. Living in what is supposed to be the capital of the world (NYC) with one of the poorest reputations for cleanliness is straight head-hanging shameful. This invention has taken a back seat to progress and has shown little to no promise.
In 1944 George Orwell wrote a classic dystopian novel with a murkier version of what I was drawn to in Epcot forty years later. I wonder though, what exactly are we promising the kids today? Are we still pushing flying cars? Or are the visions a bit more modest? In Orwell's novel, and even Bob Green's essay, emphasis is focused on progressive innovations (be it useful or questionable). That is smart, and I am all for it. But I can speak for myself and many others, that we can go a long way if we just cleaned up a few stalls along the way.
Tags: bathroom, bob green, cnn, future, george orwell, jetsons, nyc, science fiction, thailand, toilet