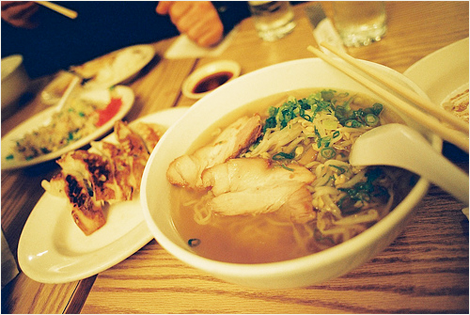 I like to eat. Who doesn't, right? In case you haven't noticed how spoiled I am (see: my wife's food blog) I share a very particular fascination of tasty food with her. But sometimes we are so damn busy with rockin' shirts and websites, that we are forced to eat out. A lot of my food preferences are pretty low-brow being that there's little I love eating more than Popeyes Fried Chicken or the standard NYC Pizza. So please rest assured, you won't be getting a stuffy food-snob/nazi perspective here. For the purposes of this blog, I will choose to recognize nine individual restaurants that literally have me salivating as I type (in no order of preference, as part of my ongoing series of 9's):
---
Chao Thai – Elmhurst, Queens [ map ]
Being that my wife is from Thailand, and I get to eat authentic Thai food regularly, I am biased and a bit reluctant to include a Thai place on my list. But this place really makes it difficult for me not to. With so many wack Thai restaurants that litter NYC, this is one of few that do it right. Chao Thai is tiny and full of Thai locals (a good sign). Until recently, the menu wasn't even in English. The food is superb even by my wife's picky standards and lives up to the hype that it is currently generating. A-roi!
Order: Som Tam, BBQ Pork.
Jackson Diner – Jackson Heights, Queens [ map ]
Those that spend time with me know that I am crazy about Indian food. This place is the mecca of Indian food in NYC. I have been eating here for almost 15 years now and I learned that my wife was a regular too, well before we met (when she used to live in Jackson Heights) – chalk up one score for fate. Not the cleanest place in the world, but the food and selection is fantastic. Prime time to drop in is during the all-you-can-eat buffet daily from 11:30a-4p. Prepare to leave with food coma.
Order: Tandoori Chicken, Chana Masala
Sirtaj – Chelsea, Manhattan [ map ]
Like I said, I am crazy about Indian food. Unlike Jackson Diner, this IndoPak hole-in-the-wall is a typical busy greasy spoon takeout joint in the heart of Chelsea. But this place is by far, my favorite. Sirtaj is tucked away from the rows of mediocre Indian eateries dotting Lexington Ave in an inauspicious locale west of Broadway. The Tikka Masala is unlike any I've ever had, perhaps lending to more Pakistani influence with a vibrant reddish tint. Not for everyone, but the people who dig Sirtaj all seem as addicted as I am.
Order: Chicken Tikka Masala, Navaratan Curry
Menkui Tei – Midtown, Manhattan [ map ]
If you're hitting the sake bars of Midtown east, I suggest you hit up Menkui Tei to coat your stomach prior to the evening's debauchery. Admittedly, it is a difficult task to pick a single ramen place that stands out in the city – but the friendly waitstaff and awfully creative & incredibly hearty inclusion of a curry pork ramen soup on the menu seals the deal and distinguishes the establishment for my tastebuds. My wife is nuts about the leek & chicken liver dish as well, making us regulars there.
Order: Curry Ramen, Gyoza
Spicy & Tasty – Flushing, Queens [ map ]
My buddy Clayton had been raving about this restaurant for years. In the past year, my wife and I finally accompanied him during one of his visits and were instantly reeled in. Not for the faint-type as the dishes featuring assorted animal organs look daunting to say the least. However, the taste of the food quickly flushes the intimidation away. This restaurant truly and literally lives up to it's name.
Order: Cold Spicy Noodles, Double Cooked Pork, Chili Lamb
Pho Bac – Elmhurst, Queens [ map ]
The service is indifferent and sometimes piss poor. The decor won't make you want to impress your friends or date. But, somehow, some way – it draws me back in – over and over. Maybe it's a 'cheap-eats' paradise where most of the best dishes are still going in the sub $8 range. Maybe it's the generous portions for said price range. Or maybe, the food is just damn good. Either way, this place is pho-bulous, pho sure and definitely gets my endorsement.
Order: Pho! and the Grilled Pork w/Angel Hair Noodles
Ichi Umi – Koreatown, Manhattan [ map ]
At around $30+ a head to start, the restaurant formerly known as Todai is not on the cheapie end. On the flip side, it is one of the biggest buffets I have ever seen – bigger than those obnoxious 50/head Vegas buffets. The selections are a sushi-lover's promised land. I'm not big on sushi myself (being only a recent convert over to the raw-side of the force) but it is only half the story here. An assortment of meats, veggies and seafood makes for a very fulfilling journey for virtually anyone's palate. Crepes and mini dessert bar with red-bean and green tea ice cream are big plusses.
Order: Anything
Nonna – Upper West Side, Manhattan [ map ]
There are about 7 kajillion Italian restaurants smattered around New York City and I have been to quite a few good ones and a bunch of crappy ones. While I am no Italian cuisine connoisseur by any stretch, I want to give a shout to the one place that I have been a repeat customer at (mostly out of convenience). We live a few blocks away from this place and it has never let us down. The food is excellent, the service is pleasant and the atmosphere is perfect – especially for lazy Upper West Side evenings when the weather is nice.
Order: Arancini and Strozzapretti
Nom Wah Tea Parlour – Chinatown, Manhattan [ map ]
It seems that every other week or so, the urge for Dim Sum strikes and my wife and I trek downtown through waves of tourists and locals in Chinatown to obnoxious palaces of Chinese brunch food. This is how the Kriheli's brunch it, unlike forking over a c-note at overpriced, long-wait eatieries all over town. This is one of the oldest Dim Sum places in NYC. Also, it's Dim Sum on demand, meaning you get to avoid the crazy cart ladies and get specifically what you want.
Order: Flat Stuffed Noodles (with Beef or Shrimp), Soup Dumplings
---
Now that I've worked up a raging hunger with this post, I'd love to hear about
YOUR
favorite NYC eats and why. So . . . let's dine.
Tags: buffet, chana masala, chao thai, chelsea, chicken tikka masala, chinatown, chinese food, curry, curry ramen, eating, elmhurst, flushing, food, golden unicorn, ichi umi, indian food, jackson diner, jackson heights, manhattan, menkui tei, midtown, navaratan curry, new york restaurants, nonna, nyc dining, nyc restaurants, pho, pho bac, pizza, queens, ramen, restaurants, sake, sake bar, sirtaj, som tam, spicy and tasty, take out, tandoori chicken, thai food, todai, vietnamese food