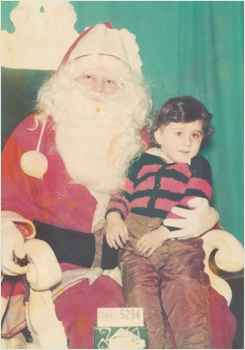 Santa was always a tough sell for me. With the current economy laying an egg, I'm no fool: I know there is no shiny new Macbook Pro waiting for me under the tree, courtesy Mr.Claus. But, hell, even as a child, I wasn't expecting jolly ol' Nick to be making any cameos in my household. Not because I was a bad apple or anything — nope. It's all because of where I grew up – Queens. To be frank, I wondered how any kid around my neighborhood could believe that Santa would venture 'round our neck of the woods. My pea-sized pre-K brain was positive that reason and logistics in this case were way off. That said, my childhood holidays were pretty much wrecked from the go.
Recently, I found this old pic of myself and Santa in some mall, circa 1977. At close examination, the apprehension and doubt painted all over my little face is clear as day. I wonder if this blatant lack of faith messed with the dreams of those around me. I suddenly feel terrible. This time of the year (or any time for that matter) should be spent with more positive energy and less skepticism. So, I feel it's time for me make amends with ol' Kringle. Here goes:
Dear Santa,

Alright, I suck. I'm sorry I didn't believe in you when I was three. Can you blame me, though? Forgive me for wondering how you could maneuver around Queens in your bright red suit without getting mugged. Hey, the 70s-80s were a rough time. I apologize for telling you not to bother with my building because of the security cameras. Reindeer flying or not, I was sure there was no way you were lugging around a bunch of Ataris through the projects just to make your way to my neck of the woods. I was just a little kid and I didn't know the importance of your presence/presents. So I shall compose a little jingle verse in hopes you can absolve my childhood deriliction:

Money is tight 'round the country
you must be busy fielding requests
I know I've been naughty, even at three
now your word will live at my behest

Tis the season, or so they say
But don't let my mood douse your glow
I shall spread your word every day
so hook me up with a Macbook Pro

Sincerely,

– Rich from Rego Park
In short, I can get behind this Santa thing now. Even though I no longer call Queens my home, I think a little good juju (especially out of me) will go far. With NYC looking more like Minnesota everyday, I see no reason why we can't leave our collective cookies and milk out and have some faith, for a change. Ho ho ho.