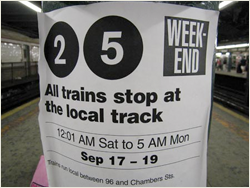 Dear MTA,
Yesterday, I was in between tracks on my iPhone when not-so-ironically, my train too, was in between tracks. The announcement that followed instructed that the R-train was going over the V-line because of construction at 59th/Lex. It got me thinking. Let's see: I've lived in New York for over 33 years now and every weekend for as long as I can remember – there has been "construction" announcements and train re-routings. Even during the maddening holiday-shopping weekends!
My question to you is: what exactly are you constructing? Something profound and immense, I hope. I mean, Citi Field and the new Yankee Stadium were built in a little over 2 years. I have seen a complete transformation of Columbus Circle in the blink of an eye as well. I am positive you have something far more grand with all those years logged. A whole new speed-of-sound bullet train system? A massive underground monument to celebrate the return of the Sumerian Gods? What is it? I see all the rats scurrying in an excited frenzy and we are experiencing more and more sick passenger delays. Goodie, goodie.
Humor me and tell me you are not lying to your loyal and overly tolerant city. Yes, I say tolerant. What other word would you use for a city that does not question the "work" that is being done without any demand for a status update. Please don't tell me that "construction" is just a code word for "we don't work weekends." I mean I've seen my one-way fare hike up from 75 cents to the two dollar mark it is today. Surely, that should cover paying some extra folks working the weekends (especially since there are plenty of unemployed folks willing to chip in). And gee, the Metrocard afforded you the luxury of cutting the jobs of all the token-booth folks, so salaries shouldn't be an obstacle, should they?
So . . . when should we expect this "construction" to conclude? Do we have an end-date? Can I get an invite to the press-release or unveiling-party? I am greatly interested, as are my fellow brethren. Show us the greatness that is being laid between the tracks. Unless of course, it is one fat goose egg.
Regards,
Strap-hanger # 10,021,974
Postscript: due to ongoing construction (of this blog), this is the last stop on the K-train. for service to the next post, please get off and take the free shuttle bus uptown.