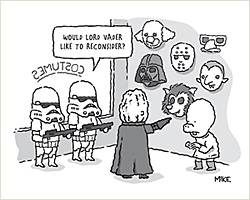 I get paid to be hated. There's no glamour in my line of work. Kind of villainous, if you ask me. But before I go into some lengthy bitchfest, let me first explain what I do (currently) in the simplest way possible.
When I'm not slaying emcees, or writing, I work for a digital advertising agency that puts out nifty web and mobile apps for pretty hip clientele. I'm responsible for the quality of the final product – meaning I coordinate testing efforts and give the green light to launch (or not). In short, I nitpick.
Sound fun? It's not. In this line of work, you pretty much piss off anyone you work with. You piss off developers and designers for raising flags and spotlighting their mistakes. You piss off project managers by not being accurate with time estimates (hey, how can I predict how faulty an app will be?) You piss off account managers by having to bill for all the time spent. You piss off the client by putting launch dates in jeopardy. You piss off IT for needing up-to-date hardware, as well as shitty hardware. And on top of everything, you piss yourself off for getting involved in this mess in the first place.
My haphazard descent into the pedantic world of "Quality Assurance" began rather inauspiciously. I have a degree in English. My first 'real' job search was focused on lowly editorial assistant gigs. One day into my search, I was recommended to a software firm looking for someone to proof educational games and applications for kids. More money than publishing, more sexy technology and gadgets — you can say I was seduced. And thus my QA career was spawned.
There were separate occasions where I broke free and parlayed my creativity to a career in design, development and art direction for the web. I thought I was safe. But no, QA seemed to linger around and always find a way of eeking back into my life. First by nitpicking my own artwork/writing to death, and then during a lull-period in my career (see: dot-com meltdown) seduced, once again. I can say with pride that I spent half of my career in design and art direction. But QA was still there, lurking in the shadows. The dark side summoned. After the tension and fallout of my last art direction gig, QA appeared to be a low-stress, no nonsense alternative in comparison. The offer was there, and my guard was down.
Fast forward two years later – and here I am in the midst of yet another run of nitpicking. And the designers, developers, project managers, account managers all curse me under their breaths. And I curse at myself at the mirror in the morning, as I don this mask of meticulousness.
Mask or not, I tell my people that if I'm liked at work, I'm probably not doing a good job. And the job requirement should read: ability to endure the ire of your colleagues and carry the weight of every unseen mistake on your shoulders. After all, if something goes wrong, guess who gets villified? Cue: more hatred.
Tags: careers, profession, qa, quality assurance, sqa, technology, testing