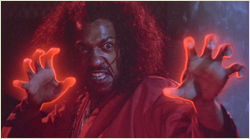 "Am I the baddest?"
Actually, he was, but in my opinion he always will be. Our resident 80's malefactor icon, Sho'Nuff – the Shogun of Harlem, now sleeps with the fishes and Kriheli is crestfallen. In a mournful stretch where we lost George Carlin, Isaac Hayes and Bernie Mac – I can't help but feel anchors of my youth slipping away. Sho'Nuff, no more? That's depressing, yo. Yes, that obnoxious red glow still leaves a lasting impression on me. And those lines, damn they were gold.
You just get that sucker to the designated place at the designated time, and I will gladly designate his ass… for dismemberment!
That was just one of many gems delivered by Julius J. Carry III playing the infamous Sho'Nuff in the cult classic, Berry Gordy's The Last Dragon. This is a man who was once "limited by his height" (6′ 5″) in his pursuit of acting greatness. Thankfully, landing the role of the campiest badass was a modicum of fate. So maybe greatness eluded him, but just that one role alone is enough to make a mark. Alongside a modest career in television, nothing Carry did was more memorable than terrorizing the likes of Taimak and Vanity. And for that, he has earned my vote for coolest villain of all time. So may we all bow down, and kiss his converse.
So, Mr. Carry, we are thankful for the memories you left us. Though you conceded your 'master' calling to "Bruce" Leroy Green, you will always be the baddest mofo low down 'round this town. For that, you are the first inductee to my Hall of Fame.
Tags: bruce leroy, last dragon, sho'nuff, shogun of harlem, taimak, vanity, villains